Fume Extractors For Robo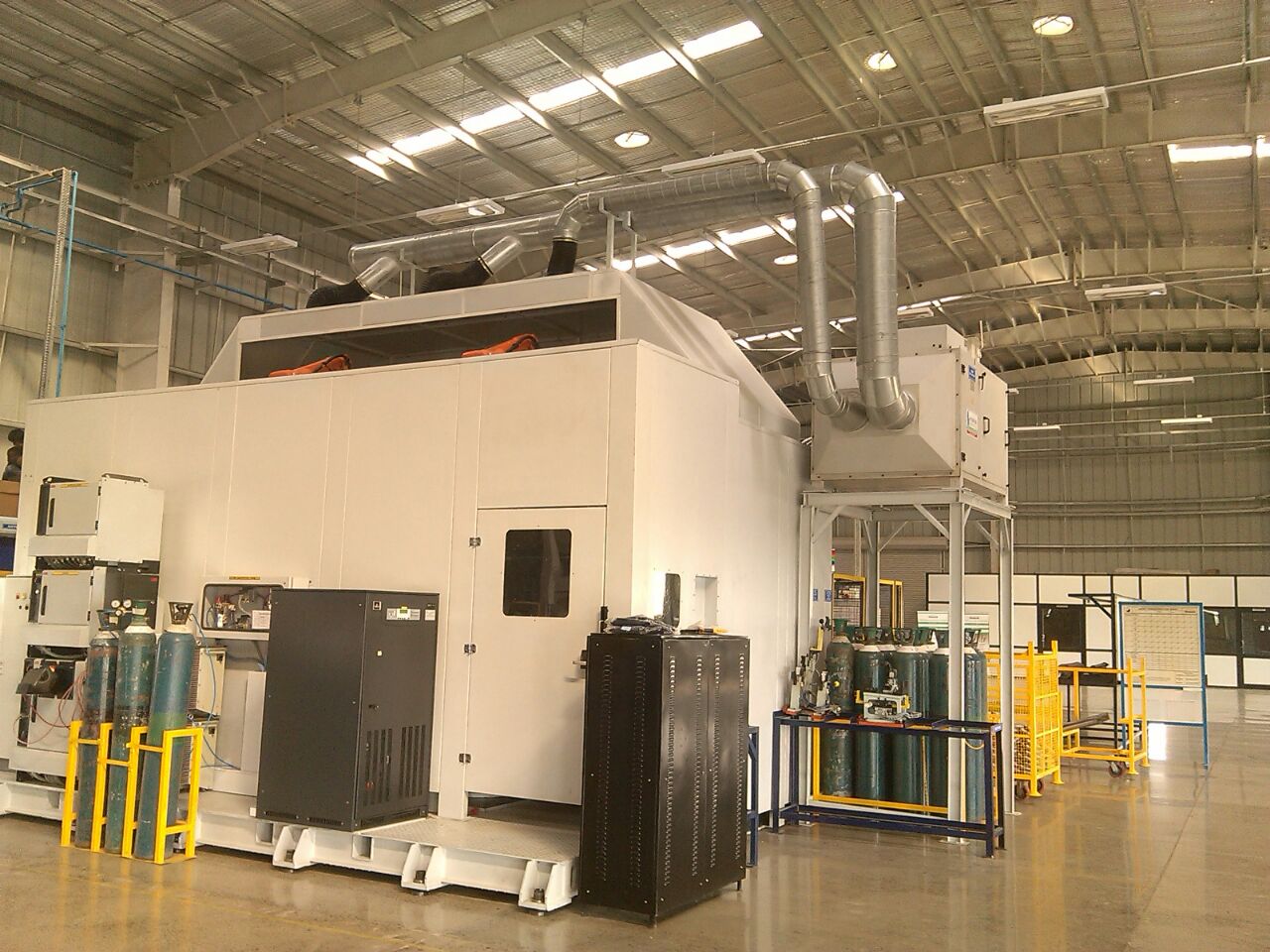 Description
Filteron range of Welding Fumes Extractors offer effective solution for Enclosed Robotic Weld cells. The Fume Extractors are mounted either on top of weld cell or side-wise, connected with GI ducting or flexible pipes. The units extract fumes for the weld cell cabinet, filter it through high efficiency Electrostatic Air Filter and exhaust clean & safe air to shop environment. Based on sizes of weld cells, Filteron has 4 standard models to choose from. Customized systems based on any special requirement is also catered by Filteron. Main advantages of these systems are – 1. Effective capture of fumes 2. Efficient Filtration of fumes 3. No need to have additional exhaust duct to take exhaust air outside shop 4. Very low power consumption 5. Zero replacement cost of filters (filters are washable & reusable) 6. No need for any ducting modification in case of layout changes.
Welding Fumes Extraction
Description
Filteron specializes in centralized welding fumes extraction systems required to cater to the needs of welding shops having number of welders. Most suitable for Auto-components manufacturing industries and heavy fabrication shops. Filteron offer complete solution – right from suction canopies / Hoods, ducting, Filtration system & Blower. These systems are ideally suited where there are a number of welding stations placed in close vicinity like welding lines. The stations are connected to a centralized ducting through which fumes are captured and then further filtered in Electrostatic / Cartridge type filtration system and filtered air discharged either in atmosphere or within same shop environment. Air flow calculations, Ducting design, Selection of filtration system & Blower specifications are critical for success of the system along with proper execution as per designs. Low maintenance requirements, Space saving within shop, Adaptability for additions of weld stations are some of major advantages of these systems. Implementation of Centralized Fumes Extraction systems significantly reduces exposure of hazardous fumes to operators and protects their health & also improves productivity. It also helps organizations for compliance with OSHA / ISO14000/ EMS/ Factory Act requirements of controlling Indoor Air Pollution
Portable Fume Extractor
Description
Portable Fume Extractor with Self standing Arm is versatile unit which can serve almost any welding application from small welding jobs to large jobs. Main application is for large jobs which are handled with overhead cranes and where canopy arrangement cannot be done. Suitable for maintenance welding of propeller shafts, earth moving buckets, Ship building workshops as well as welding training institutes. Main feature is Electrostatic Filter which offers high efficiency and does not need any replacement. Cleanable and Reusable filters make it value for money!